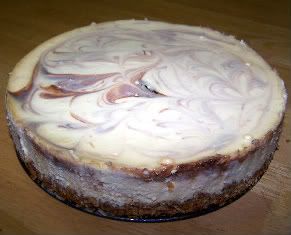 The April 2009 challenge is hosted by Jenny from Jenny Bakes. She has chosen Abbey's Infamous Cheesecake as the challenge.
I love cheesecake and I loved this challenge. After my less than impressive Valentine's Cheesecake this year, I was happy to have a chance to redeem myself. This basic cheesecake recipe was quite divine. A keeper for sure.
I made mine in a spring form pan. To keep the water from seeping in, I first wrapped it in saran wrap about half way up (I promise, it didn't melt). I then used two layers of heavy duty foil. One piece is big enough to cover the whole pan, but I used two just in case of a leak or puncture. It worked beautifully and this was the absolute BEST attempt I've had at making cheesecake. It was silky smooth.
Other tips I've picked up over the years:
MAKE SURE YOUR CREAM CHEESE IS AT ROOM TEMP!!!! Honestly, do not skip that step. Otherwise you'll have a lumpy cheesecake that you'll probably over beat to compensate. That will then make your cheesecake puff up and crack. Not a pretty or tasty thing. (This is what I did wrong this year on V-day, so I'm speaking from experience.)

I've had better luck using an electric hand beater as opposed to my kitchenaid. I can control the mixing a little better and thus beat it less.
Don't overbeat the mixture or it will puff up and crack while baking.
Instead of using the crust recipe provided, I made a peanut butter-pretzel crust and LOVED it. I got the recipe
here
but reduced the oil by a 2 TBSP. So my crust recipe was as follows:
Peanut-butter pretzel crust
2 cups of pretzel crumbs

1 Tbsp. sugar
1/4 cup extra light olive oil
3 Tbsp. natural (salted) peanut butter
Start with a clean food processor and make the pretzel crumbs by whizzing the pretzels in there for a while. Add the remaining crust ingredients right in there and pulse until it starts to clump together slightly. The little bit of PB with the pretzels tastes like a Butterfinger bar.

Press the crust into the bottom of a spring form pan.
Abbey's Infamous Cheesecake:
crust: (didn't use this recipe, so I can't vouch for this crust)
2 cups / 180 g graham cracker crumbs
1 stick / 4 oz butter, melted
2 tbsp. / 24 g sugar
1 tsp. vanilla extract
cheesecake: (awesome!!! my new basic cheesecake recipe!)
3 sticks of cream cheese, 8 oz each (total of 24 oz) room temperature
1 cup / 210 g sugar
3 large eggs
1 cup / 8 oz heavy cream
1 tbsp. lemon juice
1 tbsp. vanilla extract (or the innards of a vanilla bean)
1 tbsp liqueur, optional, but choose what will work well with your cheesecake (I used no liqueur)
*My variation on this was a nutella marbled cheesecake. I took out 1 cup of batter and mixed it with 3/4 of a small bottle of nutella. I then put a layer of regular cheesecake batter on top of the crust, then the nutella batter mixture, then another regular layer. I used a chopstick to swirll the batter together.

DIRECTIONS:
1. Preheat oven to 350 degrees F (Gas Mark 4 = 180C = Moderate heat). Begin to boil a large pot of water for the water bath.
2. Mix together the crust ingredients and press into your preferred pan. You can press the crust just into the bottom, or up the sides of the pan too - baker's choice. Set crust aside.
3. Combine cream cheese and sugar in the bowl of a stand-mixer (or in a large bowl if using a hand-mixer) and cream together until smooth. Add eggs, one at a time, fully incorporating each before adding the next. Make sure to scrape down the bowl in between each egg. Add heavy cream, vanilla, lemon juice, and alcohol and blend until smooth and creamy.
4. Pour batter into prepared crust and tap the pan on the counter a few times to bring all air bubbles to the surface. Place pan into a larger pan and pour boiling water into the larger pan until halfway up the side of the cheesecake pan. If cheesecake pan is not airtight, cover bottom securely with foil before adding water.
5. Bake 45 to 55 minutes, until it is almost done - this can be hard to judge, but you're looking for the cake to hold together, but still have a lot of jiggle to it in the center. You don't want it to be completely firm at this stage. Close the oven door, turn the heat off, and let rest in the cooling oven for one hour. This lets the cake finish cooking and cool down gently enough so that it won't crack on the top. After one hour, remove cheesecake from oven and lift carefully out of water bath. Let it finish cooling on the counter, and then cover and put in the fridge to chill. Once fully chilled, it is ready to serve.
Pan note: The creator of this recipe used to use a springform pan, but no matter how well she wrapped the thing in tin foil, water would always seep in and make the crust soggy. Now she uses one of those 1-use foil "casserole" shaped pans from the grocery store. They're 8 or 9 inches wide and really deep, and best of all, water-tight. When it comes time to serve, just cut the foil away.
Prep notes: While the actual making of this cheesecake is a minimal time commitment, it does need to bake for almost an hour, cool in the oven for an hour, and chill overnight before it is served. Please plan accordingly!
_______________________________________________
I also made a german chocolate frosting for the top, but it made it way too sweet and really overpowered the cheesecake. It was WAY better without it. But here's a picture anyway.